(Expired)
Get this one fast if you are interested!? As I mentioned in my blog post about Canadian daily deals, New Egg Canada does a Shell Shocker deal every day. Today they have a great offer on a Fuji Film digital camera.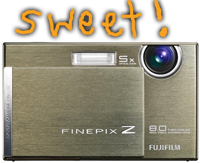 The "FUJIFILM Z100fd Silver 8.0 MP 2.7" 230K LCD 5X Optical Zoom Digital Camera" is priced at only $87.99! You also get free shipping on the ShellShocker deal from NewEgg Canada. If you need a new digital camera, this might be a great idea!
On the New Egg website, most reviewers give this digital camera a rating of 5 out of 5, which is pretty decent, with hilarious comments such as "Eggcellent compact camera!" There's also a full review on Steve'sDigicams if you want to read it.
P.S. Possibly free cashback too.