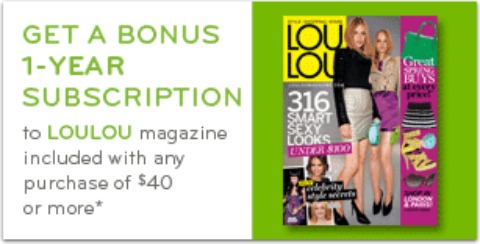 Get a 1 year LouLou magazine subscription ($14.95) with any purchase of $40 or more at Fruits and Passion until 24 April 2011 or while supplies last. LouLou is a great Canadian shopping and fashion magazine.Check out the clearance section at Fruits and Passion for some great discounts or try the new Ambiance Collection at  introductory prices of $15 or less.
I'd like to try this Room and Fabric Deodorizer for $10 in Bali Bliss Scent. The light tropical scented spray can be used on pillows, upholstery, fabric furniture and in the air.
What a great price on a 1L Fruits of the Orchard Hand Soap, just $15 (reg. $30). The soap is biodegradable and the refill bottle is equivalent to 3 original bottles.
I just love this Decorative Diffuser Set for $15.  The set includes a ceramic vase and coloured birch flower. Pair it with your favourite scent , like the Tropical Flower Fragrance for $12, and the petals of the flower will diffuse the scent for 6-8 weeks.
Don't forget to add your 3 free samples to any order!
You can redeem your magazine subscription until 31 May 2011. One subscription coupon is allowed per customer. The redemption coupon with a PIN claim code  will be included automatically with your order.
(Expires 24 April 2011)