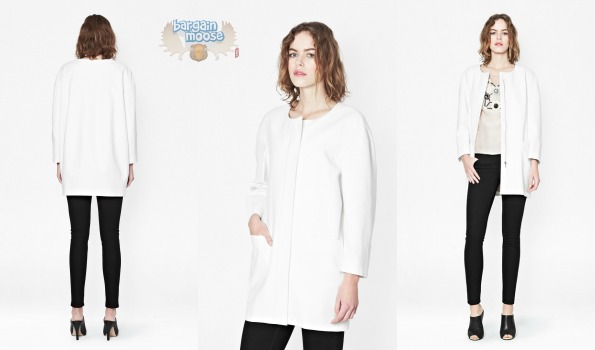 Looking for a great coat to dress up your outfits? French Connection has a stylish and classic cotton coat on sale for a great price. With a regular price of $228, this coat is on sale for $79.99. Use coupon code MYFCDEAL to get another 10% off and pay only $71.99. That's a total savings of over $150.
Personally, I would not have paid full price for this coat. It is more of a light coat that will be a great throw on when you are cool or when you are running out the door. I see this being worn quite a bit in the spring, or in the office on the chilly days. I like that it is casual, but also dressy. White is also the perfect colour to throw over any outfit, especially when you love to wear all black. This will brighten you up!
It also has two front pockets, which is very handy if you don't want to take your purse out with you. My mom just bought something similar to this because it is a great cover-up and has those handy pockets. I also like like that it looks just as good zipped up as it does unzipped.
The coupon MYFCDEAL will get you 10% off any sale item, but also 40% off any regular priced item. You don't just have to use it on this coat, you can see what other deals are looming on French Connection to save you the most money.
I also completely love this city twill jacket as it has a military style and is just a coat you want to look at. I bet you don't have anything like this at home. With a regular price of $168 and on sale for $99.99, you'll score it for $89.99 once you add the coupon.
Men don't have to miss out on the hot deals either and my hubby would love this FCUK zip thru, regularly $88, on sale for $39.99 and with a total of $35.99 once you add the coupon.
Shipping is a flat rate depending on your province, although there is a coupon code for free shipping, it depends on what you are buying as to which coupon would save you the most money. If you live in Ontario, you'll spend the least on shipping - Northwest Territories, you're out of luck!
(Expiry: 25th December 2014)