Blue Shop Canada is a pretty cool place to purchase accessories for your smart phone, tablet, and more. They also have a vast selection of freebies that you can score - with no minimum purchase necessary. Essentially, you can just stick a freebie into your cart and checkout. I suggest making a purchase though, as free shipping is on merely $20 worth of goods. They currently have a coupon code for 20% off your order as well, making this an excellent time to make a purchase. This coupon does not apply to the up to 80% off clearance section.
Click here to view all the freebies @ Blue Shop Canada now
Coupon Code: 7115
Discount: 20% off
Expiry: 3rd July 2015
There is a limit of one freebie per order. You could just get the freebie alone (and pay shipping) or spend $20 and receive both a freebie and free shipping. The last combination is my favourite.
Let us talk free items for a second. All these freebies are oriented towards the Blackberry Z30. Thus, there are chargers, cases, and more for free. However, some of the items offered - namely batteries - are not exclusive to the unit. For anyone, the following two freebies are worth considering:
AA batteries are used in everything. A friend of mine was wondering why his wireless keyboard wasn't performing as previously. He forgot that the keyboard ran on AA batteries, which he had not changed in years. Recently, I had to buy my first 9V battery in some time as the battery in my smoke detector ran low and was beeping at all hours of the night.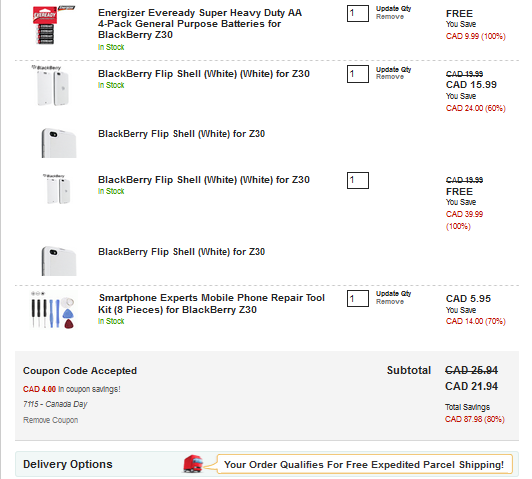 Now, these freebies have better value when you score free shipping on your order. I suggest stacking a few discounts together for the best deal. Both the BlackBerry Transform Hardshell Case (White) for Z30 and the BlackBerry Flip Shell (White) for Z30 are BOGO free units. Instead of $19.99 per unit, you receive two for that price. Use the above coupon code to receive both cases for $15.99. The space case is added to your cart automatically.
To get my cart above $20 for the free shipping, I added on this Smartphone Experts Mobile Phone Repair Tool Kit (8 Pieces), which will work on any phone really. Originally $19.95, the kit is on sale for $5.95. As this is a clearance item, the coupon does not apply. You can see how glorious this combo is when put together. I am saving nearly $80 in total!