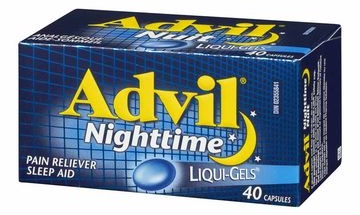 I have been wanting to try the Advil Nighttime, but a lot of these type medications don't work on me. So I definitely didn't want to spend the money and not have it work. Right now you can get a free sample of Advil Nighttime, and I am excited to try it.
Advil Nighttime is said to provide you with pain relief and it will even help you sleep. So for those nights where your knees or back are aching so bad that you can't get any shut-eye... this might be the solution! Follow the link above and claim your free sample. It will only take two minutes of your day and you will get a sample sachet with a few of the liqui-gel capsules.
When you follow the link, click on "Request Trial Offer" and fill out the short survey. You will need to be over the age of 18, and you are limited to one free sample per household. They do ask for your personal information and email, but I have a spare email for freebies and such so that I am not annoyed by the spam.
I have requested Advil freebies before with no issues of spam emails and the samples did arrive. I have requested this one as well, so I will let you know how it goes!
(Expiry: Unknown)