Free Pack Of NHL Hockey Cards!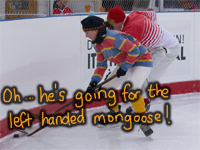 At certain locations of Toys R Us, London Drugs, Walmart and Jean Coutu, you will be able to get yourself a free pack of NHL Hockey cards from Upper Deck. This will be on Saturday the 21st of February 2009.
Click here to read more about the free hockey cards offer @ upperdeck.com.
If you or your kids are hockey fans, this is a great freebie!
I must say, I'm not a sports fan at all. But last month, I was roped into watching the junior world finals. And I quite enjoyed it! Of course, I had to get all the terms explained to me, full strength, power plays, a dig and dump, a full moose, a penguin slide, a left handed Mary, duckmothers, the Jiminy Cricket, a right wristed geranium, and even a central oesophageal pullover!
There are so many!
OK ok I made some of those up. But who's to know?!
Thanks jj8rock!