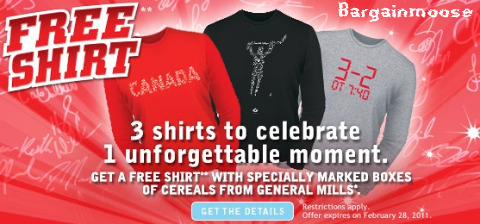 In my houses, we love these promotions (we also have like 30 boxes of cereal at one time on average). In participating boxes of cereal you can get a code for a free hockey shirt. You buy the box of cereal, and go to the website below to redeem your code.
These are nice looking long sleeved shirts, so worth the $5 or so you will spend on the cereal. This is offered by General Mills so some of the qualifying cereals are:
Apple Cinnamon Cheerios 720 g
Multi-Grain Cheerios 560 g
Cheerios 525 g
Honey Nut Cheerios 685 g
Lucky Charms 680 g
Cinnamon Toast Crunch 700 g
Nesquik 700 g
Reese Puffs 755 g
Fibre 1 Honey Clusters 700 g
Oatmeal Crisp Almond 710 g
Oatmeal Crisp* Maple Nut 700 g
Basically, look at the box: if it has the "free hockey shirt" banner on the top, it qualifies. There are 340,000 of these shirts available. When Kellogg's did this with athletic soccer shirts we got 2 free shirts, and ate the cereal (Froot Loops, yummy)!
See the website for the fine print.