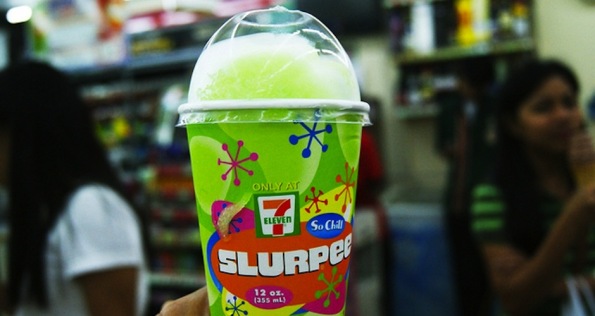 Happy Halloween! I bet a few stores will celebrate with some freebies today, but to start off your day you can head on over to your closest 7-Eleven Canada store and enjoy a free small Green Slurpee to celebrate Halloween! You just need to download the mobile app and claim the offer via the app while you are in store.
Yummy! The green Slurpee from 7-Eleven Canada is my favourite flavour - Sour Green Apple. This Slurpee can be all yours today, for totally free. First you need to download the 7-Eleven Canada app from the link above. Then you can click "Scan & Save" in the top right hand corner. All of your available offers will show up, and you will be able to redeem a free small Green Slurpee on October 31st, 2015 only.
It might be a little chilly for the kiddos to enjoy a Slurpee tonight, but I am sure you adults won't care. Especially if you are like me and love anything that is free. I can drink Slurpees and Ice Cappuccinos year round anyway, they don't bother me. It's chilly enough that the small Slurpee should keep you content.
7-Eleven Canada didn't share what flavour they meant by a free green Slurpee, but as a regular customer I assure you it will be the Sour Green Apple flavour. I regularly redeem these freebies at my local 7-Eleven Canada store. I walk the dogs over and tie them to the dog station while I go in and claim my freebie. As a side note. never claim the offer on your app until you have arrived at the 7-Eleven store. After you click "redeem" you only have 15 minutes to actually claim the offer and I have missed out on a free brownie once because of this.
Moosers, will you enjoy a free Green Slurpee from 7-Eleven Canada today?
(Expiry: 31st October 2015)