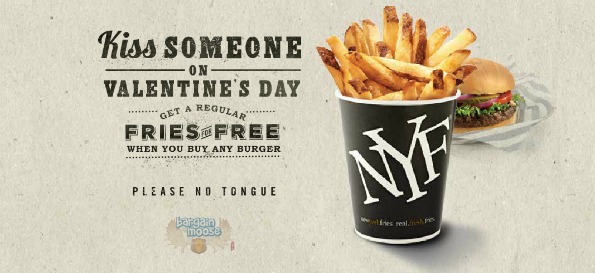 If you are hungry and looking for a great freebie today, look no further than South St. Burger Co.  Walk into your local South St. Burger Co and get a free order of french fries when you buy a burger today and you kiss someone.
You will find locations in both Alberta and all over Ontario and if you have never eaten there before, you are in for a treat.  They have delicious french fries that I cannot get enough of and my husband loves their burgers.
Don't worry, you wont have to kiss a staff member working there, you can kiss whoever you want to.  Kiss your husband, wife, son, daughter, friend co-worker or a complete stranger if you really want to.  The only request they have is that you make it a simple kiss with no tongue- you can save those kisses for Valentine's night!
The french fries you will be getting for free with your burger would normally cost you $3.95 so this is a great freebie to get.  They are actually homemade New York fries.
(Expiry: 14th February 2014)