This is a limited time offer from Bank of Montreal, otherwise known as BMO. You can get $100 when you open a new Primary chequing account online after you make a deposit by Feb. 28, 2017 and complete 5 eligible transactions that go through by March 31, 2017. It only takes a few minutes to apply online! This offer ends on February 28, 2017.
There are 4 different chequing accounts on the above link that will qualify for the $100 bonus as you can see in the image below. Monthly fees are as shown.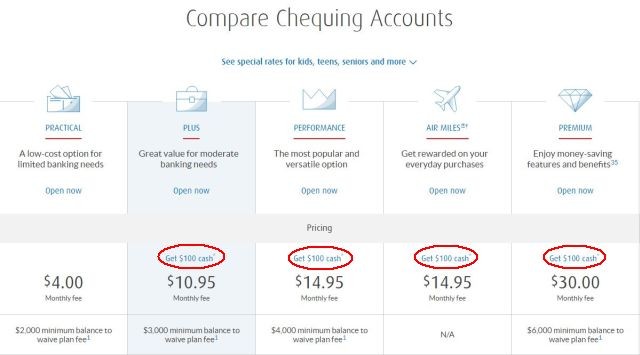 You can read the full terms and conditions right here. Some exclusions apply, and are clearly stated in the terms and conditions link.
This is what you need to know:
An "Eligible Transaction" includes:
Making a deposit of $50.00 or more into the Chequing Account at a BMO branch, ATM, or by receiving an Interac e-Transfer or a recurring direct deposit.
Completing a bill payment, funds transfer, or sending an Interac e-Transfer using BMO Mobile Banking or BMO Online Banking (including BMO Mobile Banking App or the BMO Tablet App, or smartphone mobile web at m.bmo.com)
Making an in-store or online purchase using your BMO Debit Card; or - Setting up a recurring Pre-Authorized Debit ("PAD") and have the PAD appear in the account by March 31, 2017.
The $100.00 cash bonus will be paid by May 31, 2017 once all requirements are complete.