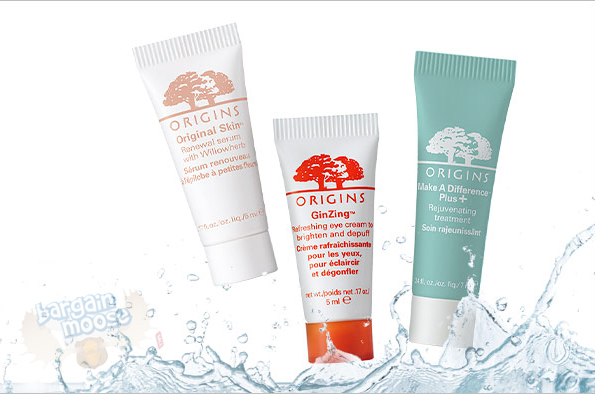 A couple of recent emails from Origins.com had a few deals therein, and it led me to check them out and see if they were stackable. Lo and behold, they are! Here are all the juicy details:
I'll break down the deal and show you all the things you can get your order:
Free shipping on $30+
Free deluxe trio on $30+ with Origins codeSUMMERSUN
5 free deluxe samples & free facial brush on $35+ (automatic in cart)
So as you can see, as long as you place an order of $35 or more, you're getting a LOT of free swag, not to mention the free Canadian shipping too. Now is an ideal time to make an order.It's actually possible that these promos are not supposed to stack on top of one another, as that seems like an awful lot of freebies on a $35 spend - buy now, think later in case they end the deal soon.
Here are the items that come with the SUMMERSUN code:
GinZing Refreshing eye cream 5ml
Make A Difference Plus+ rejuvenating treatment 7 ml
Original Skin Renewal serum with Willowherb 5 ml
And the 5 free samples have quite a few to choose from, some examples would be:
Andrew Weil for Origins Mega-Bright Dark circle minimizer 5ml
Andrew Weil for Origins Mega-Mushroom Skin Relief Eye Serum 5ml
Make A Difference Plus+ Sample Rejuvenating Treatment 7 ml
Andrew Weil for Origins Mega-Bright Skin tone correcting serum 15 ml
Drink Up Intensive Overnight mask to quench skin's thirst "Try Me" pod 5 ml
As well as the free facial brush in your cart. Hereis a screenshot of my cart, showing you all the freebies!
It's difficult to give you an actual value on all the free items, because many are deluxe sample sizes. But just as a few examples, the GinZing Refreshing eye cream is $37.50 for 15ml, so that means the 5ml you get for free is worth $12.50. The Original Skin Renewal serum costs $48 to buy 30ml, meaning the free 5ml is worth about $8. The Mega-Bright Dark circle minimizer costs $51 for a 15ml tub, so the value of the free 5ml sample is $17. As you can see, these are great value free samples!
(Expiry: 5 free deluxe samples ends 10th June 2015, coupon code expiry unknown)