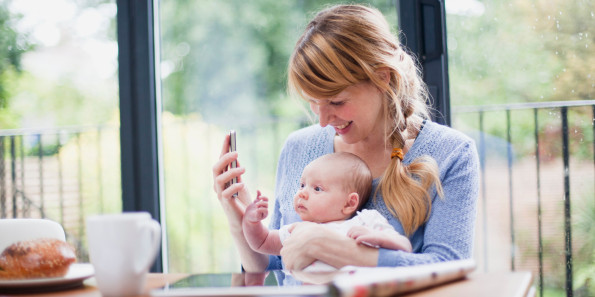 Being a mom has so many tasks and responsibilities - it is easy to lose track of some things. Which is why I set out on a mission to research the top free apps that all busy moms need! Whether you are timing your baby's feedings or managing your budget, these apps are going to make your life as a busy mom so much easier. Realistically, we have our phones pretty much everywhere we go - so why not make practical use of them? I have used some of these apps myself, and others I am just learning about. So get out your smartphone and get ready to download! Also, feel free to comment below and mention any that you think I should add to this list.
Available on the iPhone only right now, this app is pretty amazing. This app will help you maintain schedules for feeding, sleeping, and even stimulating your baby. This app will help you develop a personalized routine based on your infant's age and feeding methods. Baby Sense will also hand out some pretty useful tips along the way.
Available on the Android and iPhone, you definitely want to download the WebMD app. Use this app to get trusted health information and advice wherever you are. If you are a first time mom, you will use this a lot. I totally rely on the symptom checker and first aid essentials. Plus the app can direct you to a doctor, hospital or pharmacy in a jiffy based on your location.
Cash Back Apps
Grocery shopping is expensive of course, but using cash back apps you can get some of that heard earned money back. Download apps like Save.ca, CartSmart, Zweet, Snap, Checkout 51 and more. You just take a picture of your receipt with each app to claim different cash back opportunities. When you have reached a specific dollar amount, you will get a cheque in the mail. Seems pretty simple. right?!
iPeriod Tracker
This iPeriod app is available on both the iPhone as well as Android devices. This device can track everything from when you "monthly" is going to arrive, to ovulation days. This must-have personal assistant is one of the top iPhone apps for a reason. It is simple to use and will let you know when "aunt Rosy" is going to arrive each month. Plus, it looks discreet on your phone. Nobody will know what it is. This app has definitely made planning summer beach trips so much easier.
White Noise
Find a perfect white noise app for yourself. There are so many to choose from. Some can have annoying advertisements, but others can also cost money. I haven't personally used any to recommend, but they are pretty easy to try out. Then in a sticky situation your phone can be put into baby mode to play white noise during your child's nap.
There are endless amounts of apps that you can download onto your smartphone of course, but the ones I have listed above will help with the everyday life of a parent for sure.
What is your go-to app at the moment?