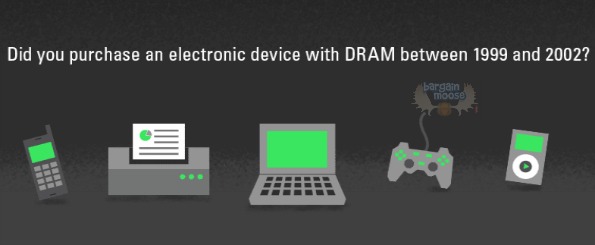 We have a funky little offer for our lovely Moosers today. There is currently a class action settlement going on because a few companies allegedly fixed the prices of DRAM. DRAM is a component in many electronics including computers, MP3 players, printers, graphic cards, and more. If you purchased any of these electronics between April 1, 1999 and June 30, 2002, then you qualify for $20 or more back.
You can read an article about the lawsuit in the Ottawa Sun for more information on why this is happening. Now, you apply for the money via an online form. There are two forms to choose from:
Simplified Form
This form requires your name, address, email, and a declaration that you indeed did purchase one to four electronic devices containing DRAM between April 1, 1999 and June 30, 2002. This simple form will take around three minutes to complete and does not require any receipts or proof of purchase.
Standard Form
If you are submitting a claim for over $20, then you will use the Standard Form. This form requires your name, address, email, as well as the number and type of electronic devices containing DRAM you purchased between April 1, 1999 and June 30, 2002. You also need to provide some proof of purchase documentation, though they are quite flexible on this. Proof of purchase can be anything from a pdf of receipts, credit card statements, warranty documents, photos, and more. In addition:
If you bought DRAM or electronic devices containing DRAM for manufacturing purposes, resale or purposes other than personal use, you may receive much more depending on the amount you purchased and your position in the distribution chain.
Now, everyone who qualifies will receive $20 with the Simplified Form and over $20 for the Standard Form. For the Standard Form, your rebate amount depends upon what electronics you purchased. To receive an estimate, check out the rebate calculator here. If you are not sure which form to submit, check out the rebate calculator and it will tell you, based on your electronics, which form is best.
This is not quick money. Payment usually occurs a year or more after the deadline for claims. The deadline for claims is June 23, 2015 so you may be waiting a year after that or even more to receive your money.
In addition, it is a good idea to make sure you would have logically bought a computer or other electronic device then. If you are 18, it does not make sense that you were busy buying electronics at the age of five or six!
Thanks to MTL on our Bargainmoose forums for letting us know about this deal!
(Expiry: 23rd June 2015)