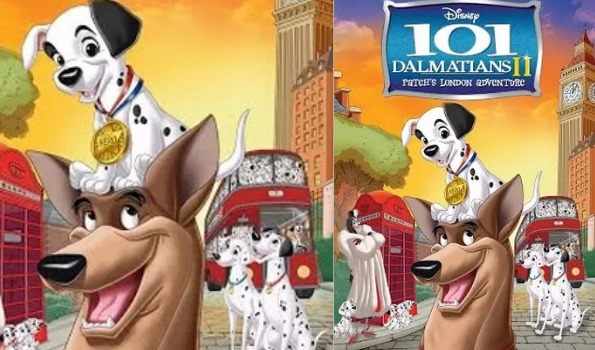 Free cartoons are always welcome in my house. Grab your copy of 101 Dalmatians II: Patch's London Adventure free on the Google Play Store.
I cannot imagine having 101 polka dot puppies running around. It sounds like a cute idea if I was visiting someone else's house! I would much rather watch oodles of puppies for free from the Google Play Store. You can watch this freebie on your computer or on any device compatible with Google Play.
You may have missed this film the first time around as this was a straight to DVD feature. This cartoon originally came out in 2003 as a follow up to the successful 101 Dalmatians.  I did not see this film, but my daughter loved the original 101 Dalmatians and I have no doubt she will enjoy this sequel.
Based on the descriptions of this movie at both IMBD and Amazon.ca, here is the short rundown of the film. We follow Patch who feels like he is not unique. It's tough being one of 101.  The family moves and Patch is accidently left behind. Spunky Patch takes off and meets his idol from his favourite TV show Thunderbolt.  Together with Thunderbolt and his sidekick Lightning, they attempt to save various citizens disastrously. Thunderbolt believes, thanks to two faced Lightning, he must complete an act of true heroism or be replaced on his show by a younger dog. Cruella De Vil returns and with her sidekicks and includes a new third goon. With much slapstick, she again attempts to steal the puppies. In the end, we learn about the true differences between acting like a hero and being a hero.
This film is a cartoon, not to be confused with the live action 101 Dalmatians or 102 Dalmatians. On the Google Play Store, this movie has four out of five stars and 105 people have rated it. The rating of this film is G. According to Amazon.ca reviews, it would be a good choice for ages 3 and up. I am sure if you have a child who is younger, you can be your own best judge if puppies running from Cruella De Vil is too scary for your little one.
Freebies do not usually last long, so grab this one now. If you already have a google account this is super quick to claim. You will need to have either a credit card or Paypal inputted in your account to claim this freebie, but your account will not be charged. Since I was already signed into my account, I could play the movie in under a minute.
(Expiry: Unknown)