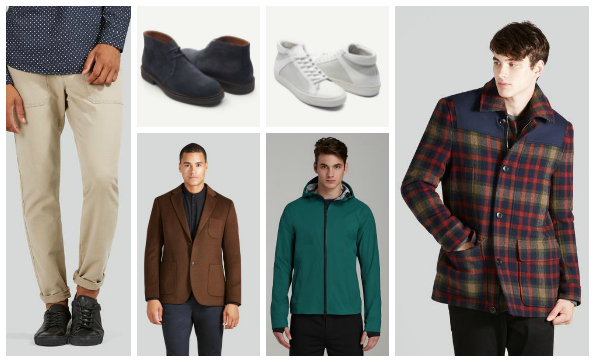 Frank & Oak Canada has a phenomenal Boxing Week sale on right now that you will not want to miss if you are a guy or are shopping for a guy. They have some outrageous discounts that are truly up to 75% off! Save big on great pants, nice shirts, gorgeous coats, and fun footwear. Receive free shipping on orders of $100 or more.
I am seriously pleased with this sale - and it takes a good sale to please me. Let us start with shoes and work our way up. These Italian Suede Chukkas in Navy and these Italian Suede Chukkas in Tanare currently on sale from $195 down to just $64 per pair. They are made of Italian suede, and Italian leather is known for being soft and high quality. Sizes 7 through 11 are in stock between the two sizes.
Next, a proper gentleman needs some pants. I spotted these Lincoln Twill Pants in Etheron sale from $65 down to $16 per pair.  Surprisingly, sizes 30 through 26 are still in stock with only the outside sizes - 28 and 38 - sold out.
For men in search of a new casual blazer or blazer for work, there are several options here to whet your appetite. This Unstructured Fairmount Blazer in Khaki was $175 and is now $44. Pair it with a pair of jeans for casual days on the town or put it together with a dark brown pair of dress pants for work. I do not like how light that jacket is, so I would buy the Laurier Wool Blazer in Cognac instead. Originally $185, it is now only $64. Evidently other people prefer this jacket as well: it is only left in two sizes.
I was very impressed with the selection of coats and jackets available as well. This Dock Worker Plaid Coat in Dark Red actually looks like a great coat for my father. Originally $276, it is now only $68. Sizes small, medium, and large are still in stock - surprising given how nice and warm this coat looks to me.
For those in need of water protection, try the State Waterproof Biking Jacket in Pineon sale from $195 down to $48. I think they may also have this jacket in another colour with more sizes available.
Overall, this sale is pretty hot and I hope you enjoy shopping at Frank & Oak Canada.
(Expiry: 31st December 2015)