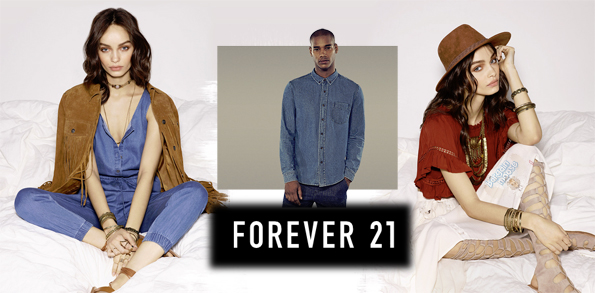 Many Forever21 fans here? If so, there's a good combo deal of offers happening just now which is worth a glance.
Here's the rough guide to the Forever21 deals which you can take advantage of:
1. Free shipping on ALL orders – for a few days only, through to the 19th March 2015, you can get totally free Canadian shipping on all orders, with no minimum spend required! This alone is a really handy offer from Forever21 because if you've spotted some items online that are under the usual $60 free shipping threshold, then now's a good time to place an order.
2. 10% discount when signing up to emails – if you've never before signed up to the email alerts on Forever21, then do so now. You'll get a 10% discount on your purchase!
3. Up to 90% off sale items – hit up the Forever21 sale section. There, you will find some very highly discounted sale items, some by up to 90% off their original prices. Just as a quick example, these Romantic At Heart Earrings (choose black) were $7.80 and are now only $0.99 – that's an 87% discount.
4. 500 favourites under $5 – on this page, you'll see the 500 items which are less than $5. This means that all of these items can be bought and shipped to you for free, at the prices you see there. Example: this V-neck camiis only $2.90.
5. Women's denim from $9.90 – here, you'll see some denim pieces on sale, with prices starting at only $9.90. You can buy jeggings, skinny jeans, joggers, boyfriend jeans and more. There are higher priced items too but it's always worth sorting the Forever21 page from price low-to-high and seeing the best priced bargains first. I quite like these Life In Progress Chambray Joggers but they're a bit more expensive, coming in at $33.90.
6. Men's tanks & tees from $3.80 – on this page, you can score the Forever21 men's basic tank for $3.80 and then the items go up in price from that. There are a ton more tees, socks and hats to choose from too.
With the free shipping being the headliner of this deal, it can be combined with some of the other offers mentioned above to make for some excellent deals in your shopping cart. Happy spending!
(Expires: 19th March 2015)