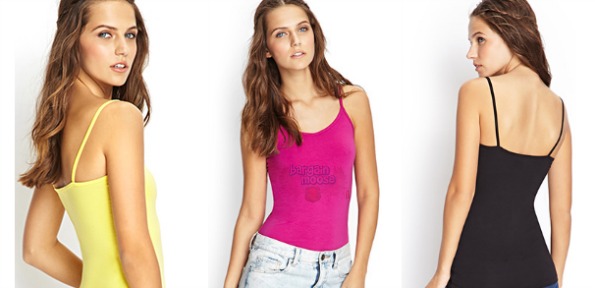 Forever 21 has been having a fantastic summer sale happening for a while now and they keep adding new deals to it.  All of the sale deals are up to 50% off the regular prices and I found one just too good to pass up.  For a limited time only, you can get their V neck camis, for just $2.80!
Forever 21 does not actually have the original full price listed for these camis but I can assure you, they were no where near just $2.80 at the original price.  I have paid up to $20 each for these at other stores so finding them on sale for just $2.80 each is a great deal.
In total, there are 18 different colours to choose from with this V neck cami.  Additionally, they still have all of the sizes available in every single colour.  Their sizes are great because they start at XS and go all the way up to XL, so there is a size and colour for everyone.
Camis are a staple in my closet year round.  I wear them by themselves in the summer time, and in the fall and winter I wear them with a cardigan or a sweater over top. When I find a deal on camis priced as low as this, I usually stock up.  I could get a cami in all 18 colours and pay just about $50 for 18 of them!  That is a crazy deal. You might say to yourself, why the heck would she want or need 18 of the same camis but in different colours?  The answer is simple, I love to layer them.  I love the look of them being layered for some extra colour and flare.  Plus, I have paid $50 for just one top before so getting 18 of them for that price is a steal and can create  so many different looks!
If you end up spending $60 or more on your Forever 21 purchases, you will get free shipping for your entire order.
If you are looking for some more great deals with this sale that are priced as low as these camis, I have those for you as well.  They actually have a section called 500 Items Under $5 for you to shop and all of these clothing and accessory items are all under just $5. You will find jewellery, accessories, tops, underwear and much more with these deals.
(Expiry: Limited time only)