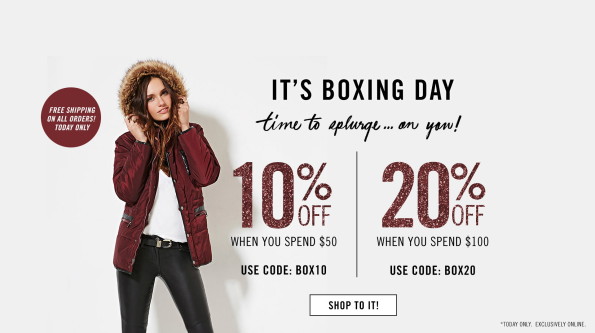 Forever 21 kicked off Boxing Week with a great sale, and now they are sweetening the deal. They are offering 10% off on orders over $50 and 20% off on orders over $100 and free shipping on all orders.
Click here to shop the Boxing day sale @ Forever21.com
These offers are valid for today only! Here are the coupon codes:
Discount: $10 off $50
Coupon Code: BOX10
Discount: $20 off $100
Coupon Code: BOX20
Expiry: 26th December 2015
Some people stop shopping for winter wear after Christmas. Not the case for me, last year there was snow until late April where I lived. Bring on the cardigans, the turtlenecks and the coats. I'll be using them for a while. That's why I don't mind shopping later during the season because in reality, I'll be wearing cold weather clothes most of the year, even if I'd rather not! It feels like some year I just completely skip Autumn and Fall and go straight to bundling up for the snow. Let's see what I've found at Forever 21 online!
I think Forever 21 always has the coolest cardigans. Over sized and comfy, just like I like my cardigans. This Geo Stripped Cardiganwas originally $ 45.90 and now reduced to $21.99. Assuming you use the 20% discount, this cardigan would now only cost $17.59. The pattern stands out, making this cardigan the center of any outfit!
This is also the time to get coats on sale, and I have spotted quite a few nice ones on Forever 21 online. The first one I noticed was this Collarless Bouclé Coat. I am obsessed with Collarless coats. Without the bulky hood and collar a coat looks so much more formal and is much easier to wear with a dress. This particular coat was $59.90 and is reduced to $28.99. Assuming you qualify for the 20% discount, this coat would be further reduced to $23.19.
I also fell upon this Abstract Tribal Print Jumpsuit for all you snowbirds out there. I thought it was so nice and I knew I had to share it when I saw some sizes were still available. It was originally priced at $34.90 and is now reduced to $16.99. With the 20% discount, it is further reduced to $13.59. I'm surprised that summer merchandise is still on sale at this time of the year but I'm not complaining, more deals for us!
Have you purchased anything at Forever 21 today?