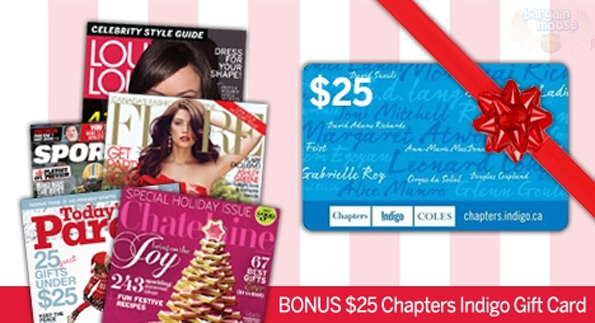 Another daily deals site springs from the magic of the interwebs, and this time it's operated by Rogers - they've launched rdeals.ca. And to celebrate their launch, they've actually got a pretty sweet offer. For $32, you'll get a $25 Chapters gift card and 2 magazine subscriptions.
The magazine subscriptions and the Chapters Indigo gift card can be sent to separate addresses, so this would be ideal if you are thinking of getting it as a gift for someone else.
Magazine choices (all have free shipping):
Chatelaine (En/Fr) - 1 year (12 issues)
Today's Parent - 1 year (12 issues)
Flare - 1 year (12 issues)
LOULOU (En/Fr) - 1 year (8 issues)
MoneySense - 1 year (7 issues)
Sportsnet - 6 months (13 issues)
Each of the above magazines would have regular subscription costs of between $15 and $20 for the period. So when you count that up, along with the $25 Chapters gift card, you've got a pretty sweet deal. My picks would be Chatelaine (as I like their cooking features). And I would also get Today's Parent, as I am one now and it has some great articles on things I am going to need like potty training, and the terrible twos!
Thanks to ksanders in the forums!
(Ends 13th December 2011)