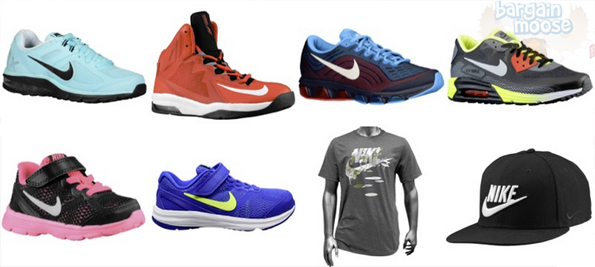 The Footlocker online store has a couple of deals available right now, which you can combine to make for some pretty great bargains. First of all, there's a special page listing a ton of items upon which you can buy one and get the second for half price. On top of that, there's a coupon code for free shipping on a $99 spend. Here are all the details:
Click here to shop online @ Footlocker Canada now
Coupon Code: IP454PP9
Discount: Free shipping on $99+
Expires: 31st December 2014
The above link will take you directly to the page of the special offer, with more than 500 items in the buy 1 get 1 half price deal.
Did I ever mention that I LOVE trainers! I wear trainers very often; they're on my feet almost every day. They're just a comfy thing to wear when I am working from home, when I am not in my slippers. :) And there is such a selection of trainers to choose from in this Footlocker sale, in any colour you can imagine. There are quite a few that caught my eye, here are my picks:
I love the colour scheme of the last on the list, the Adidas ones. If I chose those, then I could choose any of the others for an additional $50. Obviously if you're buying this type of thing, then your order is going to be over $99 anyway, and you can then avail of the free shipping coupon code above.
There are mens', womens', girls' and boys' items for sale in the Footlocker BOGO offer, so you could find something for the whole family.
Shipping!
Last week at a conference, I met a rep from Footlocker and she mentioned something that I was not aware of. Previously, if you wanted to buy online from Footlocker, you had to go through the dot com and order from the US (therefore incurring potential duties and customs fees). But a little while ago, Footlocker started shipping from within Canada for orders from the dot CA site. This is fantastic news for Canadian shoppers! It means that the costs you see at checkout are all you're going to pay, and you will also get your orders delivered much faster. This is a great incentive to buy from Footlocker.ca. I really wish that more of these worldwide companies would get with the times and follow Footlocker's lead regarding Canadian shipping!
(Expiry: BOGO unknown)