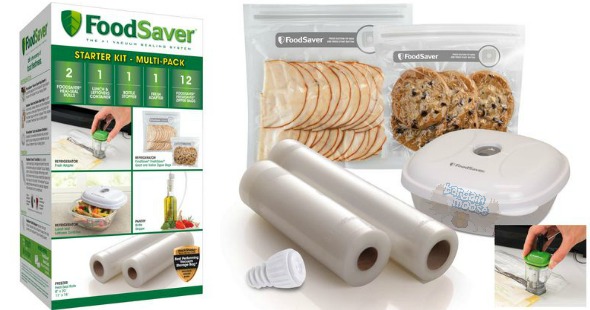 Are you looking to start saving more food? Start preserving your fresh items, frozen food, or pantry foods with this FoodSaver Accessory Starter Kit from Walmart Canada. This kit would have normally cost you $50, but is on clearance sale for just $25. If you spend $50 or more you can have this item shipped directly to your home for free.
In my household it is just my son and myself. Often food is wasted because between the two of us, we just don't eat it fast enough. I would love to have something like this FoodSaver Accessory Starter Kit that is on sale for 50% off at Walmart.ca right now. For just $25 you will get the Fresh Adapter and other accessories like the Heat-Seal rolls. Take a look at what is included in this FoodSaver Accessory Starter Kit for just $25:
6 FreshSaver Quart Zipper Bags
6 FreshSaver Gallon Zipper Bags
1 Fresh Adapter
1 Bottle Stopper
1 - 8" x 20" Heat-Seal roll
1 - 11" x 16" Heat-Seal roll
1 Lunch & Leftovers Container
The accessories sound great. I drink wine, but not by the bottle. The Bottle Stopper can replace the cork from your wine bottle. It also vacuum seals your wine to keep it fresh. I imagine this Bottle Stopper could work on expensive oils and such as well. The containers and zipper bags are great for deli meats, cheese and anything else really. They even prevent freezer burn which is so annoying. I hate taking a food out of my freezer to find out that it has been freezer burnt. Actually, it looks like the Heat-Seal rolls are even safe to throw in the microwave or simmer. I am impressed.
I could not find this FoodSaver Accessory Starter Kit for any less than $25 at other Canadian retailers. Take a look at the prices I found during my price comparison search:
It really is sad that Walmart.ca took away their free shipping with no minimum purchase, but if you spend $50 you can still enjoy free shipping right to your door. Perhaps a friend or relative could use one of these FoodSaver Accessory Starter Kits as well? If you purchase two, you will have hit your free shipping threshold. Otherwise you could have it sent to your closest Canada Post office for free. If you are in the Greater Toronto Area you can opt to pick up  your purchase at a Grab & Go Locker in a Walmart Canada store near you.
(Expiry: Unknown)