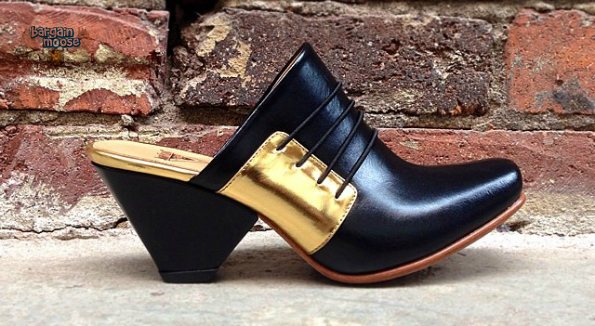 The absolute best day of the year is upon us: Fluevog Day. If you are a devoted fan on the Fluevog brand, then head on over to the John Fluevog website today only and receive free shipping on any order. In addition, every 45th order on their website will be free- it could be you!
Let us review the normal Fluevog shipping policy. Normally, shipping is $16 per item if you are just purchasing one pair of shoes. Two pairs of shoes or more cost $10 each to ship For example, if you purchased three pairs of shoes then you would have paid $30 shipping. Thus, free shipping from Fluevog is worth a minimum of $16 and potentially much more.
It is no secret that I love Fluevog. I only own six pairs of their footwear and love each pair to bits. However, Fluevog is quite expensive (worth every penny) so I rarely buy unless the shoes I want are on sale. Thankfully, the sale section is positively filled with amazing Fluevog shoes right now.
Are you looking for some crazy toes? The Mezzo Della and the Mezzo Cecilia have the same toe, but different style. The Della is a cute little shoe with a wooden heel and a lace up front. Originally $355, this shoe is on sale for $169 in two different colours: black or red. The Cecilia is the same toe style in a gorgeous boot. I find that these fit standard (I have wide feet) so they were comfortable but form fitting when I tried them on. Originally $459, the boots are on sale for $259 right now.
The Killa Betty is a shoe that can be dressed both up and down. The black and gold closed-toe sandal is perfect for a night out on the town in your little black dress. The gold is eye-catching and you are sure to get many complements on these. Originally $285, these shoes are on sale for $159.
The Wearevers Kiitos are a fantastic everyday shoe with a fun little heel and a rounded toe. Originally $299, these shoes are now on sale for $199.
I own the 7th Heaven Zachary: Women's in black and they are quickly becoming my favourite boots. I find them a bit tight across the bridge of my foot, but that can be stretched out. I really wish I had purchased the purple version, as they are gorgeous. Originally $359, the Purple Zachary are on sale for $229.
While this is a one-day deal, they have been known to extend it before. With the Victoria Day long weekend, I expect this deal to be extended.
(Expiry: 15th May 2015)