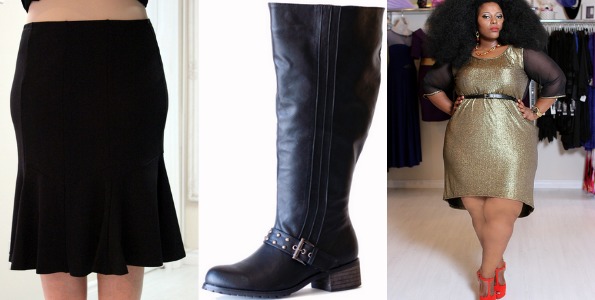 Add a new curvy skirt to your wardrobe. This Flair Plus Skirt was $69 but is on sale for $34.50. Use a coupon code from the forums to score completely free shipping with no minimum. You'd normally have to pay a minimum of $10 in shipping and it goes up from there depending on what you spend, or spend $500 to get free shipping so this coupon gives you quite a saving.
At my daughter's preschool, one of the other parents is a plus size fashion blogger over at Flight Of The Fat Girl. While her style is more bold and adventurous than mine, I follow her blog and like seeing the outfits she mixes together. The other day I noticed she featured a stylish animal print maxi dress plus a coupon code for the store Sexy Plus Clothing. While the maxi dress she featured looks fabulous on her, it is a bit above my price range. She did offer the coupon code FREEFLIGHT at the end of her post that will give you completely free shipping with no minimum at Sexy Plus Clothing.
I noticed we have not blogged Sexy Plus Clothing much. Their clothing seems to have a little more variety for plus size women and a even few designer names attached to a few pieces. Armed with this great free shipping coupon, I found a fantastic Flair Plus Size skirt. I have a curvier figure and have a similarly shaped skirt that I have had for a long time that is also in black. I often wore it when I was in the office and found it could pair easily with many different tops. It became one of my staple pieces in my office wardrobe. This skirt does mention in the description that it is a fall skirt, which means the fabric will be thicker. You can purchase this skirt in size 16 through size 22.
I also really liked the Jennifer Wide Calf Boots. These black leather moto boots were $149 but are now $64.50. These flat boots have a little bit of attitude to them with the rivet details.  I have fairly wide calves and find it harder to find nice tall boots. I always jump on a good pair of tall boots when I see them. I may have more tall boots then sandals now from that habit. These boots are a great choice and are available in size 7 through size 11.
The Cassidy Hi-Lo Plus Size Party Dress is another great choice for the next time you want to glam things up. This dress was $79 but is now $34.50. While this dress is not my style, I can see someone looking fabulous in this outfit at some fabulous party. I am almost sure that same party involves multiple martinis. This dress is available in sizes 1x, 2x and 3x.
Grab your favourite picks now. There are some great options on this site if you are plus size and looking to add a little sexy touch to your outfit for your next event.
(Expiry: 25th May 2015)