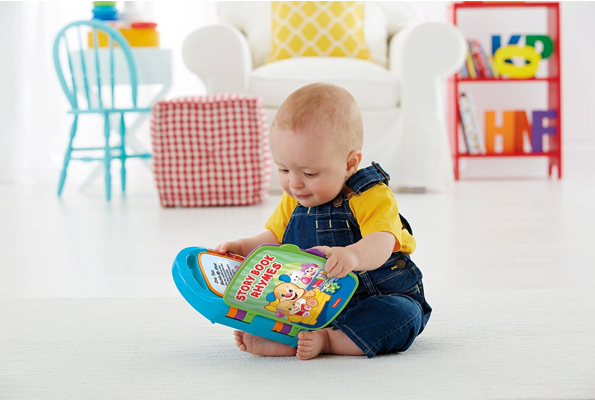 Here's another great gift idea for a little one and it's only $11.99 until the end of the day! It is one of Amazon's Lightening Deals so there is a limited quantity at this price and they're already 80% claimed, so hurry! If you need a last-minute gift for a baby or toddler, this is a great, inexpensive option.
Babies love to be read to and, as they get older, they love to hold the books themselves and turn the pages.
The Fisher Price Laugh & Learn Storybookis recommended for children 6-36 months of age. It even has a handle so it can easily be taken on the go (maybe a good distraction for those car trips to visit family over the holidays!).
This cute electronic book plays familiar songs and nursery rhymes as baby flips through easy-to-turn pages. It helps to teach first words, letters, numbers, shapes and more.
The book features the Laugh & Learn characters which you may be familiar with. Fisher Price has a bunch of free phone/tablet apps with these guys that also aim to teach similar skills so I recognize the puppy and little frog. They're bright and colourful and fun!
This storybook is selling for over $20 elsewhere but you can snag it today for 40% off at Amazon Canada.
If you don't have Prime, be sure to top up your cart to $25 in order to receive free shipping. I don't know about you but that's never much of a challenge for me when shopping Amazon!
(Expires: 16 December 2015)