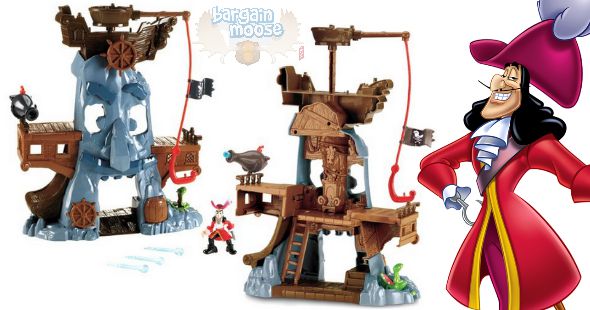 *Bump! Jake and the Never Land Pirates are popular - especially at this hot, lower price!*
Leave it to Walmart Canada to have popular toys on clearance sale. If your kiddo enjoys Jake and The Neverland Pirates, then they will want to add Hook's Adventure Rock to their collection of toys. This Fisher Price Jake and The Neverland Pirates Hook's Adventure Rock was originally $49.97 but is on clearance for just $13. That is an incredible discount off the original price. Spend $50 to get free shipping from Walmart.ca.
Aye matey! Look out, Captain Hook is trying to trick Jake to come into his Adventure Rock.
You and your kiddo can explore ways to keep Jake & The Neverland Pirates safe, or help Hook protect his precious treasure at just a fraction of the original cost. This toy was a little steep for me at the original price of $50, but for just $13 you can bet that  I added it to my Walmart.ca shopping cart. This is going to make an excellent Christmas gift.
This adorable little pirate toy is quite interactive actually. My son has a few of these Jake and The Neverland Pirate toys, and he adores them. Even though the suggested age is 5 through 8, my two and a half year old would thoroughly enjoy this. You can turn the wheel to make the pirate ship rock side to side. Even the face becomes a little animated when you do this. You can place Hook on the crow nest which stands at about 16 inches tall and also acts as a crane. You can use the crane to bring the little figurines from one platform to another. Keep in mind only the Hook figurine is included, but I am sure you will collect more than one of these play sets so your children can combine them for more fun. I tend to take away the little projectile pieces. The last thing I need is my toddler shooting one at his eye or even my eye. Ouch! Not my good eye! Then I will really need a pirate patch.
Walmart Canada has a few different shipping options. If you spend $50 or more, Walmart.ca will ship your purchase right to your home for free. If you live in the Greater Toronto Area like I do, then you can opt to have your purchase sent to your local Walmart's Grab & Go locker for free. If neither of those options suit you, just have your purchase sent to your closest Canada Post Office for free.
(Expiry: Unknown)