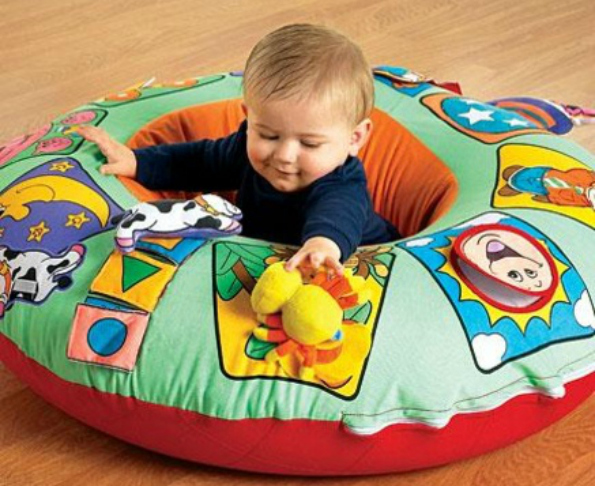 We are all for really cool toys for kids. If you have an infant or know someone who does, consider picking up this Fisher-Price Inflatable Infant Play Area. The Inflatable Play Area was $49.99, but is now on sale for $29.99. After coupon code941612464, your infant play area comes down to just $19.99. Sears Canada offers free shipping to over 1300 Sears Stores and Sears Outlet locations, so you could quite easily get this play area shipped near you free of charge.
This tube provides a safe and soft nesting area for your little one. The shell is made of 90% cotton and 10% polyester for a durable and colourful finish. The play area has different textures, sounds, colours, and more to promote your baby's development. Flip back flaps, play with stuffed animals, and check out cool animals while sitting in this donut. Not only does this play set help improve eye-hand coordination; it can also help your child learn to sit up on their own.
This inflatable play area has a maximum weight allowance of 30 lbs, and is designed for children three months up to 36 months depending on the child's weight. The pump is not included, but it uses a standard pump like you would have for your bike tires.
Happily, the outer cover is washable so baby can drool, throw up, and wee all they want and you can get this sucker clean. Your baby will be happily entertained and contained (younger children) while you have some Mom time. One reviewer said:
Bought this for Christmas for my 4 month old son. He's 8 months now and loves sitting in it. Keeps him occupied. Wouldn't keep him in it unsupervised tho as the sides are low and he can push himself out. The only complaint I have is that it's large so takes up a lot of room! Overall love this!

I could not find any other stores in Canada that sell this particular toy, but I figured this was a good price at 60% off in total. The reviews are overwhelmingly positive as well, with an average 4.2/5 rating. However, a couple parents said that the tube deflates too fast. You may need to put a little extra tape around the seal or maybe just inflate regularly. I do love that this toy is inflatable, so it becomes very compact when not in use.
(Expiry: Unknown)