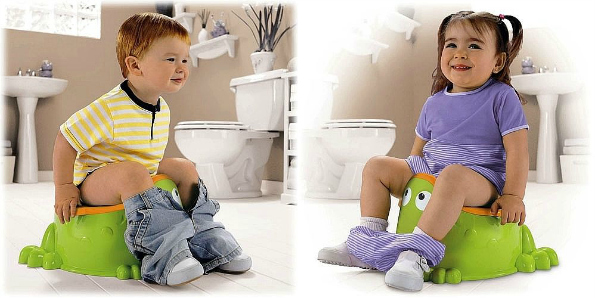 Are you hitting the potty training stage of your child's growth? If so, then pick up a fun and inexpensive Fisher-Price Froggy Potty on sale from $20.99 down to $11.87. This potty will come with free shipping (no minimum) from the Toys R Us Outlet on eBay Canada.
This little potty is perfect for children just learning to go to the loo instead of use diapers all the time. The froggy potty has built-in handles help toddlers feel comfortable and secure on the potty. Adults can use those same handles to lift out the inner bowl to dump the contents. This makes cleaning a lot easier.
This potty is great for girls and for boys. There is a built-in splash guard for boys to help prevent mess. If you have had a boy, then you totally know what I am talking about.
This potty is good for younger children. I have read great reviews from people potty training anywhere from three-month old children to two-year old children. From this potty, your child can transition on to the adult toilet.
The cute froggy figure will encourage your little one to learn how to use the potty. Little rewards and words of encouragement along the way certainly help as well. One reviewer at Toys R Us said:
We have 3 pottys already but getting a 22 month old boy to keep the pee in the potty has been a struggle with all 3 of the pottys we have. This potty is PERFECT for getting all the pee in the potty and is super easy to dump out.
The same potty is currently $13.98 @ Amazon Canada (8 left in stock) and $17.47 @ Walmart Canada. While it is on sale for the same price at the main Toys R Us Canada website, they have a shipping minimum of $49 or else you have to pay around $10 in shipping costs. That is why this deal from the Toys R Us outlet is so much better: you get a training potty for only $12 and free shipping.
(Expiry: Unknown)