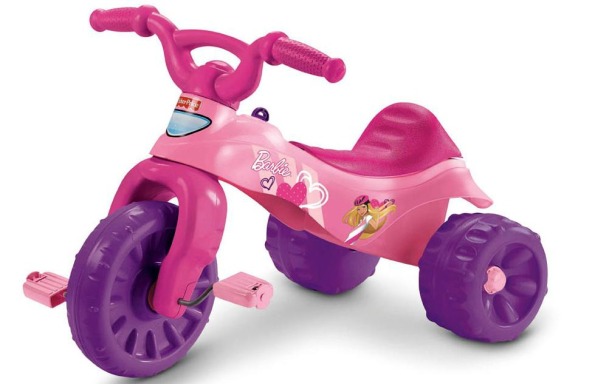 *BUMP! This is back at an even lower price!*
Oh my goodness. This is an adorable little item to have wrapped up under the Christmas tree for your little girl this Holiday season. The Fisher Price Barbie Tough Trike was originally $44.99 at Amazon.ca, and is now $21.33. You'll even get free shipping when you spend $25.
Every little girl loves Barbie, and chances are if you have a toddler in your house that they would love having a trike too. Check out the Fisher-Price Barbie Tough Trike that is on sale at Amazon.ca for 44% off the original price. Instead of paying $44.99, you can snag this excellent gift for just $21.33. Other Canadian retailers have this same Fisher-Price Tough Trike priced at around $55 (Walmart.ca and ToysRUs.ca).
While this trike is designed with your princess in mind, it is tough enough to last years even if played with by little boys. It has a wide, stable wheel base and the handlebars are easy to grip. The foot pedals are even larger than average to make it easier for your little one to roll in style. The tires are durable and means for even off-road fun with their rugged treads. By "off-road" they most likely mean on the grass.
The reviews on this product left me pretty optimistic. While there are some lower reviews, for the most part customers seem entirely happy with this bike. Many say it is safe and exciting for their toddlers, which is what we all want as parents, right? The assembly also sounds quite simple, so even if you receive it during the day while hubby is at work you should be able to put it together yourself. This tough trike is best for kids from ages 2 through 5. They have a few more styles. Two are designed more for boys with Harley Davidson and Thomas & Friends themes, but unfortunately they are not on sale like this one is. Hopefully they will be soon!
This deal is already 30% claimed. It was only 20% claimed when I started writing, so you can see that it is selling pretty quickly. Amazon.ca was even nice enough to put free shipping on this item if you spend $25 or more, so be sure to add something small to your shopping cart as a filler.
(Expiry: Unknown)