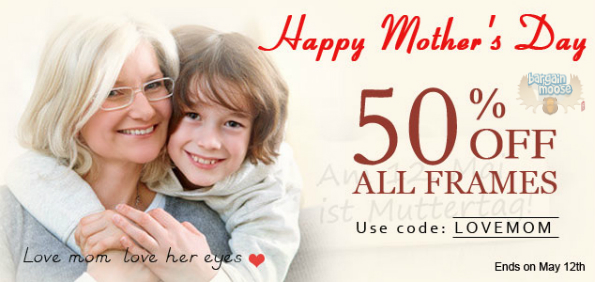 It's almost Mother's Day, and Firmoo is celebrating by giving 50% off all frames with this coupon code!
Click here to shop for glasses @ Firmoo.com
Coupon Code: LOVEMOM
Discount: 50% off all frames
Expiry: 12th May 2013
I've mentioned this before, but glasses were a hard thing in my family, specifically for my Mom. We didn't have a lot of money growing up, and glasses weren't cheap. It was hundreds of dollars for glasses, but she always managed to get them for me when I needed them. I think it's so cool that nowadays, single moms and low income families don't have to worry about glasses, they can just pick up a pair of $10 frames with lenses at a place like Firmoo. With this coupon, you can get any frames with lenses for 50% off.
Shipping varies depending on where you are, but for me it's about $12. If you're in Canada, it should be around that. I can't imagine it being much more. I will warn you that shipping is very slow since it's your standard "direct from a factory in China" kind of deal.