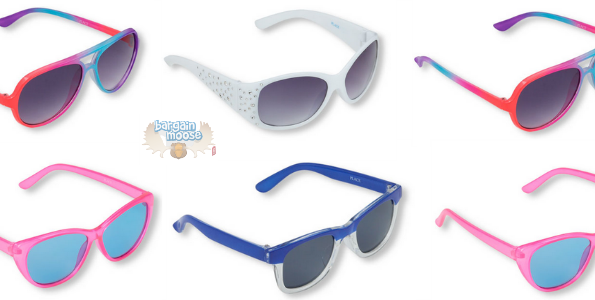 Grab all your favourite summer items right now and stock up for next year. The Children's Place is offering up to 80% off summer clearance items. If you spend $30, you will also receive $15 in Place Cash to use later in September. Lastly, right now the whole lot will ship completely free with no minimum, saving you an extra $8 today only!
We have now reached one of my absolutely favourite times to shop for next summer. If you guessed this summer, then you are right on target with me. The Children's Place has a fantastic sale right now, and it is time to stock up my storage tubs with next summer's kid wardrobe. Sizing can get a bit spotty for the best deals, so make sure to sort your choices by your kid's size for the best selection.
Girl's shorts are at a great price, dropping to only $4.99 for the best deals. There is a slew of shorts that are on sale up to 78% off. Here are some of top discounted choices.
Printed Petal Shorts were $22.95 now $4.99
Aloe: Sizes XS, S, M
Indigo: Sizes XS, S
Printed Culotte Shorts were $22.95 now $4.99
Indigo: Sizes XS, S
Funfetti Pink: Sizes S, M
Multi Colour Floral: Size S
Girl's jeggings seem to be another place you will really clean up, with select styles now 80% off.
Solid Jeggings was $24.95 now $4.99
 White: Sizes 4, 5, 6x/7
 Yellow: Size 4
Sailor Floral Jeggings Sizes 4, 5, 12, 14
I also found this fab Neon Striped Toddler Boy Polo. This polo was $14.95 and is now only $3.99. This polo would look adorable for vacation too! Choose between the following colours and sizes.
Neon Yellow: 6-9months, 9-12 months, 12-18 months, 18-24 months, 2T
Neon Green: 6-9months, 9-12 months, 12-18 months
Neon Orange: 6-9months, 9-12 months, 12-18 months
While you are ordering, snag a couple of pairs of sunglasses for toddler boys, toddler girls & girls. There are just too many pairs to count, but most of them started at $6.50 and are now down to only $1.99!
Place Cash
If you are not familiar with Place Cash, you should be because it can really stretch your dollar. So for this promotion if you spend $30 before September 14th, you then receive a coupon for $15 to use at The Children's Place. Even better if you spend $60, you receive two $15 coupons and it stacks up as you spend. This coupon must be used between September 15th and September 28th, and can be used both in-store and online, on orders of $30 or more. This time of year it is particularly helpful for snagging up those extra clothing items you realize you need after school starts for free. Your coupon is sent to you within 48 hours of your order shipping.
Bargainmoosers, these deals at the Children's Place are always a great way to build your kid's wardrobe on the cheap. Snag up your favourites now, the sizing options usually go quick on free shipping days.
(Expiry: 3rd August 2015)