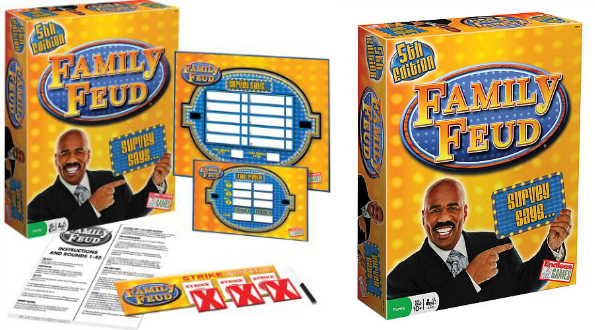 Family Feud has been on TV almost since I can remember. It is a great game where families battle it out to win money by giving the most popular responses to a question. You can now buy the at home game to play with your own family. Family Feud 5th Edition by Endless games is on sale from $19.38 down to just $9. Receive free shipping to your local Canada Post location.
You cannot buy the 5th Edition from Amazon Canada directly, and the cheapest Marketplace Seller is $29.99 + $9.99 shipping. I did find the game over at Toys R Us Canada for $19.99, which is pretty much the original price. Your box of fun comes with a scoreboard, a strike indicator, three "X" markers, instruction and survey question booklet with all the survey questions and answers in it, and a wipe-off marker. Some people have been disappointed that the survey questions and answers come in a booklet instead of each on individual sheets of paper, but for $9 I wouldn't care.
The game is designed for three to eleven players, thus it is pretty good for larger parties and family gatherings. If you think of the original game on television, there were usually two families with five family members each and then the host. Essentially, this game is built for big crowds.
One reviewer at Walmart said:
This game is a lot of fun. If you like the show you will enjoy the game. I would suggest buying buzzers for it however. This makes it more like the real game. It is really fun when you have at least 5 people.
Another reviewer suggested downloading a buzzer app on your smart phone instead of buying a buzzer. This worked really well for her family and made the game even more fun because you are always racing that buzzer.
Overall, this is a cool game and a great game for playing when the family comes to visit for the holidays. At only $9, it is also an excellent game for Moosers on a budget.
(Expiry: Unknown)