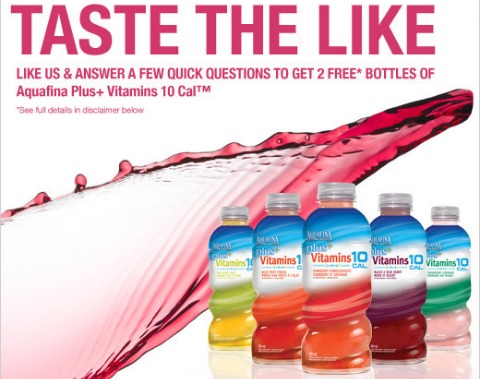 A hot Facebook freebie out right now. If you 'Like' Aquafina Plus+ Vitamins 10 cal on Facebook and answer a few questions, you'll get a coupon for 2 FREE bottles! This offer is available while supplies last, so get yours now!
The Aquafina Plus+Vitamin 10 cal vitamin enhanced water comes in 5 flavours and is sweetened with Reb A (from the Stevia plant). You can order 1 coupon package per Facebook user and per mailing address.
The Facebook page says,
Have you registered to receive coupons for two FREE bottles of Aquafina Plus+ Vitamins 10 cal? If you were able to click on the "Submit" button, this means you have successfully registered with our system. There will be no confirmation email sent out. Instead, just look out for the coupons in your mailbox! Enjoy Tasting the Like!