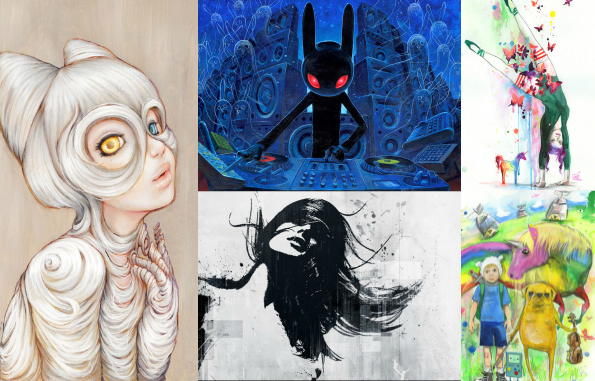 Eyes on Walls Canada is one of my favourite places to buy art. They have several of my favourite artists - Lora Zombie and Camilla D'Errico - in various forms such as framed prints, art blocks, canvas, and more. Right now, they are hosting a factory clearance sale (merely a different term for a sale that started on Boxing Day) with up to 50% off art by your favourite and soon to be favourite artists.
One of my goals, when I moved out on my own, was to actually cover my walls in art that was not posters. For those in pursuit of good art, try this gorgeous Heaven in her arms Museum Mounted Canvas by Alex Cherry. This is a 20" by 30" mounted canvas on sale from $149 down to $89. 
Lora Zombie has quite the following and I totally understand why. This Mini Unicorn Museum Mounted Canvasis practically my inner child screaming to get out and play. I adore the girl doing the handstand and the mini rainbow unicorn and the amazing use of colour. Originally $149, this mounted canvas is also on sale for $89.
Mounted canvas is my favourite, and I have four of them in my house. Three of them are from Eyes on Walls and feature fantastic art by Camilla D'Ericco. One of my favourite prints by her I actually do not have. Yuuta Museum Mounted Canvas would look amazing next to my other three pieces. It has long been my favourite: I love the gorgeous girl and the yellow snake. I used to have this image as a skin on my laptop. This 20" by 30" canvas is on sale from $149 down to $89.
Yes, there are other things besides canvas. Check out this The Dead Walk Mini Art Block by Alex Cherry. Originally $35, the art block is on sale for just $19. This might make a nice gift for a Walking Dead fan. Lora Zombie makes this Adventure Time Mini Art Block that is appropriate for any age. It too is on sale from $35 down to $19.
Standard shipping starts at $6.95 per order, which is pretty cheap given the size and fragility of some of these art pieces. Many art pieces are already sold out, but there are plenty left in the eight pages of sale items at Eyes on Walls.
(Expiry: Unknown)