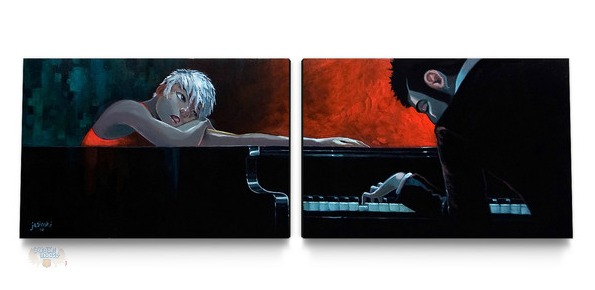 Decorating your home is one of the many joys of home ownership and rental (with nice proprietors). Save $50 on canvas sets, for your walls, at Eyes on Walls Canada.
You can choose from two, three, or four canvas sets. These sets have the picture going across all the canvases though there are a few that are just similar ideas by the same artist. While you may wonder why someone would split the picture up instead of having it on one canvas, it really is aesthetically pleasing with many of the images chosen. Here is the pricing tier:
2 Panel Canvas Sets - Was $199 | Now $149
3 Panel Canvas Sets - Was $299 | Now  $249
4 Panel Canvas Sets - Was $299 | Now  $249
You save the greatest percentage - 25% - on the two panel canvas sets. Here are some of my favourites.
I have mentioned Afterburner by HR-FM before because I like the print so much. It really gives me a Millennium Falcon feel. I love the thrusters and the colour palette is out of this world. It reminds me of the sun burning hot on rusty metal in the desert. While it seems like a strange image to split onto two canvases, I like it. Each thruster takes a prominent position on each canvas.
After Hours by Aaron Jasinski certainly does the double canvas structure justice. You see how the artist really played with both sides of the image while leaving the middle open. They are not completely separate, rather her arm serves as a connection between the two pieces on the top, and the piano connects on the bottom. While this piece can be bought on one canvas, I think it looks better this way.
However, The Real You by Aaron Jasinski looks like it was made for two canvas panel sets. The robot and the man are near perfectly symmetrical reflections of each other. The middle is empty space that is perfect for breaking up. I also love the masks that each character holds. It is as if they are trying to look through each other's eyes.
Canvas sets come ready to hang, which is why I like them so much. Just pop a couple nails in the wall and you have yourself a new focal point. Your room looks all the better for it.
Shipping costs a flat $8.9 per order. That is very good considering the size and fragility of what is being shipped.
(Expiry: 12th October 2014)