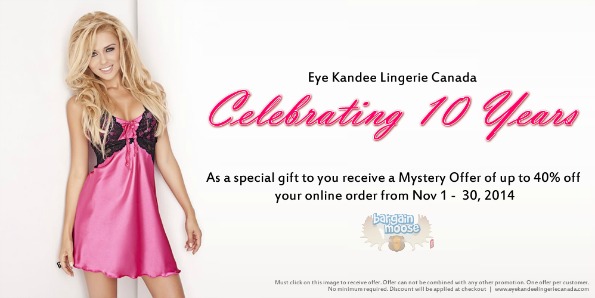 Eye Kandee Lingerie is celebrating its 10th anniversary, and with that comes a mystery sale. You can get up to 40% off during this sale.
Basically, once you get on site, there is a banner that asks you to click there to find the discount. I did it in two different banners and both times only got 20% off, which I'm going to assume is the standard. That always irks me about sales like this - it is the rare person who will get 40% off. But, looking back at previous sales, they really don't go much higher than 20% off either. We even have an exclusive coupon code for them, which is 20% off orders over $75.
This sale has no minimum order, so it is 20% off, no matter what you order. Unfortunately, you can't use our exclusive coupon with this sale, as it inputs as a unique coupon code at checkout. You won't see the discount until the last page of checkout either. But, if you do want free shipping, it is on orders over $75, otherwise it is a steep $15 charge. Hopefully some of you Moosers will get the 30% and 40% off offers!
This sale is on until November 30th, so technically, you could clear your cookies and try again daily, but that could mean that you'll miss out on some items that could sell our or worse - you could get a lower percentage off.
I found quite a few really gorgeous items that I'd love to get. Eye Kandee is also having a panty sale, which is basically a buying in bulk deal. If you like one style of panty, they you'll get the same one in three or more colours during this sale or one colour in three styles. I like this idea.
While Halloween is over, Christmas is coming and what man wouldn't want to see you under the tree in this hooded Santa mini dress? While it is regularly $199.49, you could pay between $119.69 to $159.59 depending on your discount.
(expiry: 30th November 2014)