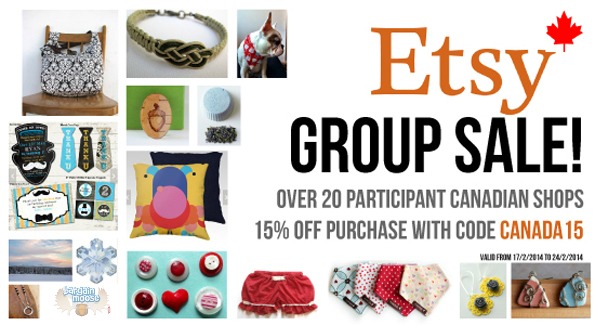 Do you ever shop at Etsy? If you don't, you are completely and utterly missing out. Etsy is amazing! And right now there are 20+ Etsy shops who are offering 15% off with promo code in celebration of the Olympics and to support Canada.
Click here to shop @ Etsy.ca now
Coupon Code: CANADA15
Discount: 15% off
Expiry: 24th February 2014
Mooser Mel sent us this great coupon code with a little bit of information about why this promotion is happening. Etsy is a place where you can get unique, local and handmade goods. What better way to support Canada than to support a small Canadian business? I've shopped at Etsy a number of times, buying my sons personalized superhero capes, buying my husband a personalized hand stamped necklace, and more.
Here is the list of vendors who are offering the code this week:
As you can see, there is a wide range of items for everyone and I've looked into these collections and they are all gorgeous! Handmade items make amazing gift ideas, even for yourself.
Shipping all depends upon the vendor, but these are all Canadian vendors so it shouldn't be too much.