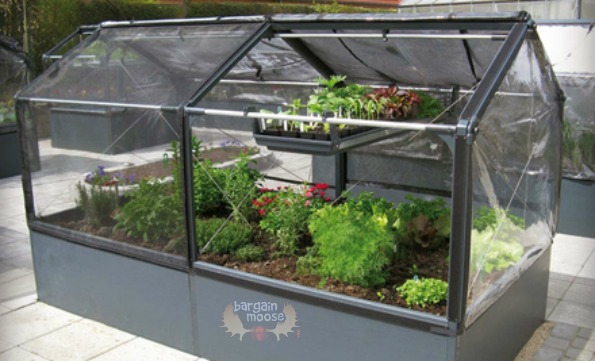 This weekend marks the point where you can actually put your plants in the ground and supposedly they'll be safe from frost. Mother Nature has been pretty funny this spring, so you never quite know if it is true. Ethical Deal Canada has a great deal on raised garden beds with attachable greenhouses, on now.
What's great about these raised gardens with greenhouses is that they collect solar energy, raising the temperature of the soil, so your plants sprout quicker, grow larger and generally have a longer growing season. In Canada, that longer growing season is important since our summer is just so short! With the garden being raised, it is much easier for you to plant and tend to it. You can even sit in a chair while you do it, saving your back.
There are three options for this deal, with different sized gardens:
Option 1 is a 4' x 2' x 12" lean-to raised garden bed with a 5' high frame, which is extra tall, so you can plant tall plants and small trees, for $247 (a $308 value including tax).
Option 2 is a 4' x 4' x 12" raised garden bed with a 5' high frame, which is also extra tall for tall plants and small trees, for $291 (worth $364, including tax).
Option 3 is a 4' x 8' x 16' raised garden bed with a 3' high frame and a 4' grow tray, on which you can place your starter plants, for $537 (worth $840).
The company that is supplying these raised garden beds is GrowCamp Canada, a family-owned company that is committed to promoting sustainable living and protecting the natural environment.
Once you purchase your voucher from Ethical Deal, wait until the deal is over, then head to the GrowCamp website, choose your garden bed, enter your voucher number and your bed will ship for free within a week.
(Expiry: 24th May 2013)