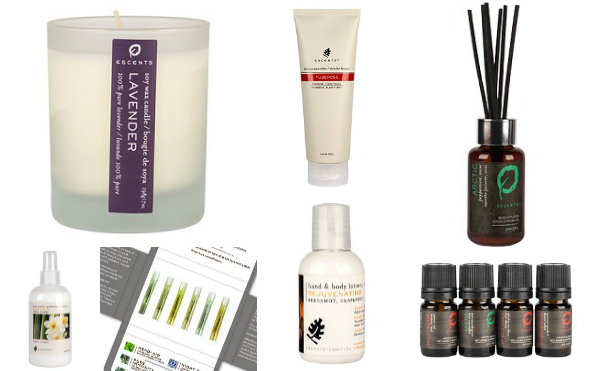 Escents Aromatherapy is offering up to 79% off products in their clearance sale right now. This is a great time to stock up on yummy aromatherapy essentials and extras like lotions, body wash, balms, and more. Prices start at just $1 during this mega sale! Also, when you spend $50 or more at Escents Aromatherapy, you can receive this Holiday Aroma Blend Kit for just $20, originally $31.95.
Original prices are stated on the main sale page while only the sale price shows on each products page. You can really load up your cart with amazing deals thanks to Escents. This Rejuvenating Hand & Body Lotion - Travel Size is on sale from $4 down to just $1. Buy a few of these to stick in some stockings this Christmas.
My favourite deals happen to be on shower gels as they are one of the highest discounts in the sale. I also love yummy smelling shower gel and enjoy taking long, hot showers in the winter time. TheTuberose Shower Smoothie, theLilac Shower Smoothie, and the Narcissus Shower Smoothie are each on sale from $22.95 down to just $5 each. Each 240 ml shower smoothie will clean your skin and moisturize at the same time.
It is difficult to know what scents you will like, especially when buying online. Escents has you covered. Pick up the Wellness Blend Sampler Setto try the following essential oil blends: Headache Relief, Night Time, Pure Immunity, Sleep, Respiration, and Energy. Originally $12, this sampler kit is now on sale for $3.
These long-burning and soot free Tealight Candles are on sale from $16 down to just $5 - that is for a pack of 50! I use them for burning soy wax melts to make my house smell all yummy. I just ran out a couple weeks ago, so I might pick these up.
This Narcissus Lotion Spray is a spray on lotion that has a gorgeous scent. Use this too calm anger, reduce stress, and relax. Originally $22.95, this lotion spray is now only $6 for a 250 ml bottle.
I also wanted to mention thisCellu-Aid Lotion on sale from $24.95 down to $8. This lotion helps improve skin's firmness and reduce the appearance of cellulite. Use this lotion and drink lots of water to improve the appearance of your skin.
All of these deals are really sweet. When you spend $50 or more, you can receive that Holiday Aroma Blend Kit for just $20 (save $12). Make sure to add it to your cart. Also, if you purchase a Regular Reed Diffuser, you will receive an Arctic Reed Diffuser for $5, when they usually cost $17 (you save $12). Make sure to add the arctic reed diffuser to your cart if you want this deal. All of these offers can be combined in the sale shopping cart.
Standard shipping is $10 and you receive free shipping on orders of $75 or more.
(Expiry: unknown)