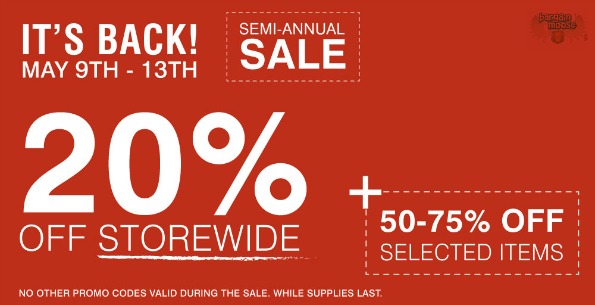 Escents Aromatherapy Canada is holding a Semi-Annual Sale from May 9th to 13th, 2013. Everything is at least 20% off, with many items as high as 50% to 75% off.
I absolutely love essential oils, and Escents Aromatherapy is the place to get them, especially at amazing prices, such as these:
Zap Away Essential Oil Blend (Item Id: 350-1969): Was $13.95, Now $3.44. Formerly known as Bug Off, this citronella/lavender blend is chemical free and can be added to lotion, shower gel or spray.
Sweet Rice Essential Oil Blend (Item Id: 350-6148): Was $14.95, Now $3.75. A fruit milk and clove combination, that would smell simply delightful.
Lotus Essential Oil Blend (Item Id: 350-5724): Was $12.95, Now $3.25. This blend consists of Amber and Tolu Balsam, and is said to promote harmony, and to help you stay present and grounded.
Chill Aroma Blend (Item Id: 350-5225): Was $14.95, Now $3.75. Lime and spearmint will give you a burst of refreshing energy to start your day.
There are so many amazing blends to choose from, as well as handmade soaps, diffusers, bath salts and more.
All items ship from Vancouver, British Columbia with a flat shipping rate of $10. If you spend $75 or more, the shipping fee will be waived.
(Expiry: 13th May 2013)