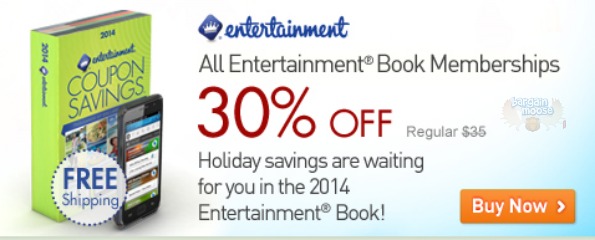 The Entertainment Book is giving you 30% off all coupon books this weekend.
In the email it advertised this as a Black Friday deal, but online it is advertised as a Thanksgiving (American) sale. Either way, this is a big discount for the Entertainment book. Most books costs $35 and with this offer you can get them for $24.50. That is what the Vancouver Island book would cost me.
The Entertainment Book this year is good until December 2014, so you get thirteen months to use all the coupons for clothing, food, entertainment, and more. Even using just a few coupons you will make back the money you spent on the book. This is pretty easy to do if you eat out at all, because there are some pretty great eating out coupons in there. The local Edmonton book we used to have also had coupons for some grocery stores which came in very useful.
(Expiry: unknown)