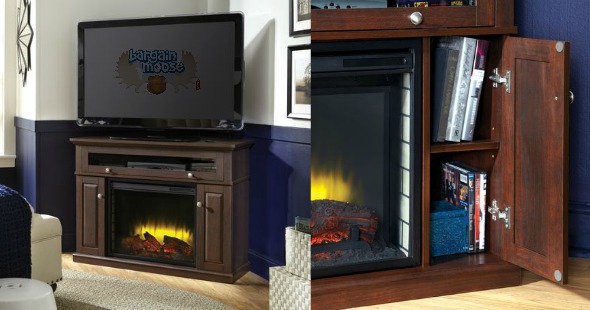 Looking for a safe place to put your TV that still adds style to your home? This Emerson Wall/Corner Media Fireplace is stylish, practical and sturdy for that new TV. Walmart Canada has this Emerson Wall Media Fireplace for just $199, which is a much better price than the regular price of $348. You will get free shipping too.
Recently I took advantage of the Target liquidation sales and purchased a brand new 40" TV. Before that, I had an older TV that had a stand of its own. So the problem I have, is that I now need a new TV stand to go with my new flat screen TV. I came across the Emerson Wall Media Fireplace on Walmart.ca and was quite impressed. This wall fireplace was $348, but while quantities last you can pay just $199.
This 47" wall unit has an electric fireplace to keep you warm and cozy while you cuddle up to your favourite movie. The elegant dark walnut finish is sure to impress the guests as well. You can even store your gaming systems or DVD player behind the garage style door on the media shelf. There is some side storage as well in the cabinets for media accessories, your favourite movies or other items you may need to keep close to the TV.
This Emerson Wall/Corner Electric Media Fireplace can hold a flat panel TV of up to 48" so it would be perfect for your bedroom or even your living room if you have a 40" TV like me. Now let's talk about the fire. This Emerson electric fireplace has 3 different flame adjustments so you can adjust the heat to your needs. You can even choose to turn the heat off and just have the fire showing if you are just going for looks (maybe in the Summer?). When you change the settings, you will see the current settings come up on the LCD viewable display, but they will fade away after about 10 seconds.
This offer is available online only, so unfortunately you can't head into your local Walmart Canada store to take advantage of the savings. Let's not forget that Walmart.ca offers free shipping on all orders big or small. The only extra fees you will have to worry about are the taxes. The remote control for the fireplace is even included!
(Expiry: Unknown)