Hot deal coming through! This is a great price for the refurbished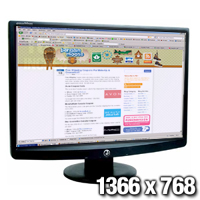 Shipping costs are only $6.99 – pretty cheap!
Specification for your viewing pleasure:
5ms response time

1366 x 768 native resolution

16:9 widescreen ratio
While I will say that it's only a refurb with a 3 month warranty, it's a really excellent price for a cheap monitor. 18.5" is a bit of a weird size, but if you're only using a 14" or a 15" monitor right now, then the step up to an 18" screen would be significant.
Don't forget Dealguild Canada for 1.95% free cashback.
Just in case you haven't heard of the company, TigerDirect are a great Canadian website which sell lots of electronics and computer components. I've bought from them in the past, they're pretty good. :)