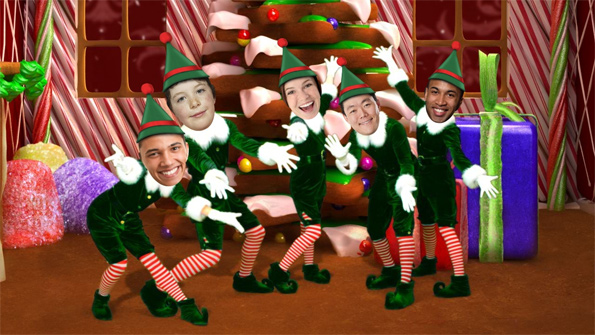 Hey there, my fellow Bargainmoosers! I'd like to take this time to let you all know that the free Elf Yourself videos are back! You know, the hilarious web-based videos where you could upload pictures of you and your friends, family members, and whoever else you'd like to see showing off their dance moves while dressed up as an elf! Now this is a worthy distraction from your work day - it's hilarious, it will make your friends and family have a good laugh, and best of all, it's FREE! Just click on the link below for more details.
I first saw these Office Depot-sponsored Elf Yourself videos 2 years ago - I checked out my Facebook feed and saw that some of my friends and acquaintances  had these hilarious videos posted where their faces were on the bodies of these animated elves, and boy could those elves dance! I couldn't stop laughing at how hilariously well done these videos were, and how easy they are for users to make one! All you need to do is upload some pictures, with some help from the Elf Yourself website's integrated photo upload tool (it's no different from posting photos on Facebook - just locate the photos that you want to have in the Elf Yourself video on your hard drive, and that's it). From there, you'll also have plenty of customizable options.
Now that we're deep into the month of November, you'll likely see a bit more snow (I know that I can see some right now by just looking outside of my window). Christmas is just around the corner, and these videos are a sure-fire way to remind your family and friends that this truly is the most wonderful time of the year! We're currently in the second last month of 2015 - what better way to celebrate than laughing at your surprisingly smooth dance moves as an elf?
I highly recommend that you try out Elf Yourself - it's free, and you'll have some great laughs. I still remember when my OH posted an Elf Yourself video featuring the two of us a few years back, and I loved it so much that I still have it saved on my computer. Here's a quick sample which we just made to show you what one of the videos will look like:
(Expiry: Unknown)