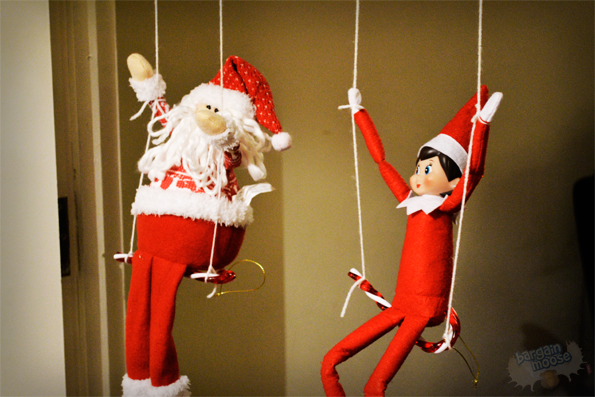 Since Chapters released the HOLIDAY15 coupon code for a 15% discount on regular priced items a few days ago, I've been spotting some good deals on there. Sometimes there are items that are rarely discounted and this is a perfect opportunity to grab them. The Elf on the Shelf for example, is an item that does not get discounted very often – so I am pleased to see that the 15% coupon code works on it! You can now get a cute little Christmas Elf on the Shelf for only $33.99 withfree shipping!!
You must use the coupon code HOLIDAY15 to get 15% off the base price of $39.99. Shipping is free as you are spending over $25.
For the $34 price point – you get the Elf himself or herself, as well as the story book about the elf's origins and what they get up to, leading up to Christmas. Here's a little video about it, if you're not familiar with this Christmas tradition:
The cheapest price we found in the past for Elf on the Shelf was $36 here back in October. As I said, it's rarely discounted and just now, the Elf is $40 shipped at Amazon, $35 plus shipping at Retrofestive, $36 plus shipping at Bedbathandbeyond. SO even though the Elf is only a few bucks cheaper at Chapters, it's also the free shipping which really makes this deal special.
I bought my first Elf on the Shelf last year, when my little girl was four years old. I have to tell you that there were both pros and cons to this cute little Elf. One – my daughter did seem to try and behave better as the Elf was there "reporting" to Santa. Two – she was getting up earlier and earlier in the mornings as she just couldn't wait to see what the Elf was getting up to. The image above is one of my own photos – the Elf and Santa went for a swing on some candy canes swings. :D
(15% coupon expires 22nd November 2015)