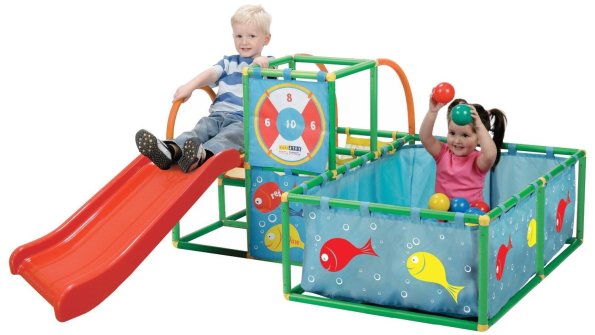 Winter weather is approaching, slowly but surely. Do you find yourself looking for fun, indoor activities to keep the kids busy? If you have younger kids, then you may be interested in an indoor jungle gym. How about this Eezy Peezy Indoors Playset? It was originally $169.99 but is on sale for $101.99. There is also a coupon code for an additional $10 off $25, so you will pay just $91.99. Shipping is included at this price from Sears.ca.
The discount on this item is already pretty awesome, but we can take it a step further. Sears.ca has a valid coupon code for an additional $10 off orders over $25, so once you apply that you will pay just $91.99. Pretty sweet, right? Especially considering that this play set retails for $279 on Amazon.ca! Here's the coupon code for that discount:
Coupon code: 941612464
Discount: $10 off $25+
Expiry: 12th November 2015
So let's bring the fun indoors this winter! Whether you are looking for a great Christmas giftfor the kids, or just something to entertain the kids, this is the item for you. This great playset is fully intended to use in an open area like a basement or large living room, simply so your child doesn't slide into anything accidentally and hurt themselves.The Eezy Peezy Indoors Playset features a slide and a ball pit, and is bound to provide hours of fun for children under the age of 3. Some assembly is required, and of course you will need to supervise your child while they are playing on this set.
The manufacturer suggests that no more than 2 children play on this toy at once, and the total weight must not exceed 154 pounds. That means I won't have to worry about my weight breaking it! Not that I will be climbing on it or anything. The ball pt comes with 50 balls, but I think I noticed Toys R Us selling packs of the ball pit type balls when I was there last, so if you want to add more you can. This will also come in handy once your kiddo has lost half of the included balls. It is bound to happen!
Plus, Sears.ca is offering free shipping on orders over $49, so you won't have to worry about paying anything extra to actually get your purchase sent to you.
Moosers, would you let your kiddos have this as an indoor toy?