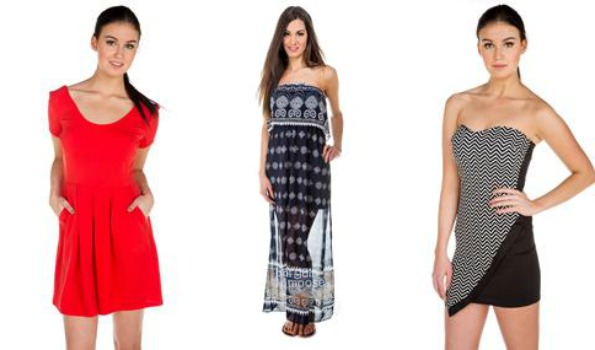 I found a fantastic deal on a short sleeve skater dress at Eclipse. Regularly $39.99, it is on sale for $24.99. Plus, I found a second bonus, which is a coupon for free shipping on orders over $20. Use the coupon code MOMDAY20 to get your shipping comped at checkout. Normally, you'd need to spend a minimum of $50 for free shipping.
This short sleeve skater dress is quite cute. Made from a textured knit, it has a scoop neck, pleated skirt, two front pockets and a fitted bodice. I'm going to think that this dress appeals to the younger ladies and teens, as the length is a bit short and the skater style is one that the teens love.
Now, the tomato colour is the one that is only $25 right now. If you want royal blue, you'll pay $29.99 and if you want navy blue, you'll pay $34.99. I think all are great colours, but being the budget-friendly shopper that I am, I'd choose the cheapest option. Besides, red is such a standout colour, why tone yourself down in a blue?
There are other equally pretty dresses on sale at Eclipse and this tribal print chiffon maxi dress could appeal to the younger ladies, but also moms like me. It is a bit flirty though, with a transparent skirt that starts just above the knees, but I do love a boho design! This dress is only $5 off, from the regular price of $34.99, now $29.99, but don't forget, you are saving the shipping costs on top. Shipping is $8.95 if you don't spend $50, so if you this is all you want, that's a significant savings on top.
If dresses are not your thing, be sure to check out the yoga pants Eclipse has regularly $24.99, now $15.99. They have different colour waistbands and if you popped two in your cart, shipping would be free and you'd spend only $30 total.
(Expiry: 10th May 2015)