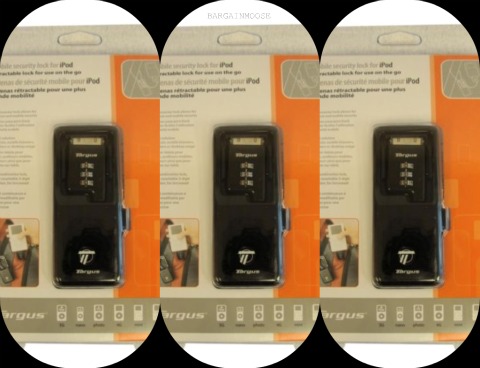 This is a really cool idea, given how much money we invest into our iPods and now iPads. Targus makes a device that plugs into the dock connector port of our iPod/iPad and has a 3 number combination lock. It has a cord that connects to a base, so you can wrap it around the strap of your backpack, the leg of a table you are working at or anything that helps your device keep from getting swiped. Originally priced at $39.99 these are on sale at ebay for only $9.99 with free shipping. That is 75% off!
I checked around and found them on sale at a couple other places, but never with free shipping so they always ended up around $20+ elsewhere. As the proud owner of an iPod touch and a iPad and knowing the value invested into each device I think a measily $10 is a worthwhile investment to make sure that they don't get swiped while I am on the bus, in the library, or traveling.
Note: sales tax will be charged.