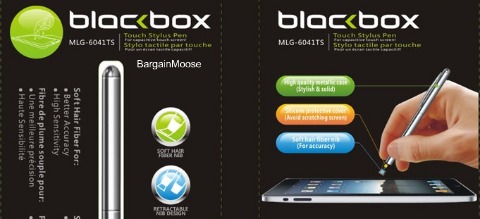 These things usually cost a pretty penny so this is a great deal, at 70% off! Tired of smudgy fingers on your iPad / iPhone / iPod Touch? Get a Black Box Stylus Pen and let it do the touching for you. Easy to use, you don't freeze your fingers off in the winter... and priced at only $5.99 with free shipping (70% off).
They ship from within Canada so no duty to worry about.
Features:
Soft hair fiber for better accuracy & high sensitivity
Retractable soft hair fiber NIB style Design.
Silicon cover for protection against scratching
Compatible with capacitive touch screen such as iPhone 3G, iPhone 3GS, iPhone 4, iPad, HTC HD2, and other devices.
Metallic case with antiocidation process.
Improve input / touch accuracy.
Coming from the very cold northern city of Edmonton where digging my fingers out of my gloves to change my music to a podcast or a movie while waiting at the bus stop is near to insanity in the winter time... one of these would be VERY handy. Ever heard of frostbite?
Note: Checked it out on other sites and found it for $29.99 in one place, and $19.99 on NCIX.com.