My Boxing Day tradition for the last 3 years has been to get myself a new jacket each year at Danier Leather during their Boxing Day sale. Since Danier Leather has started an ebay store, they have been selling their products at such fabulous prices, I just don't know if I am going to following my Boxing Day tradition this year! Again, we have a wonderful suede jacked for only $79.99, 73% off its retail value!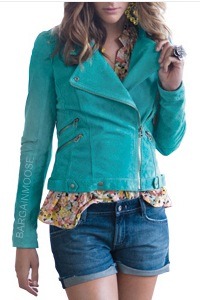 You can get it in a whole range of sizes from XXXS to XL and 4 different colours: Aqua, Beige, Lilac and Putty. This is a biker inspired bomber, but the suede gives it a gentle look. I like it best in the aqua or lilac. The side zippers are just adorable, and the main zipper being off to the side like that is very flattering. I know I could find something like this at the Boxing Day sale, but I'm not sure the price would be as good. 73% off is amazing.
Includes free expedited shipping!
Note: applicable taxes will be applied per province.