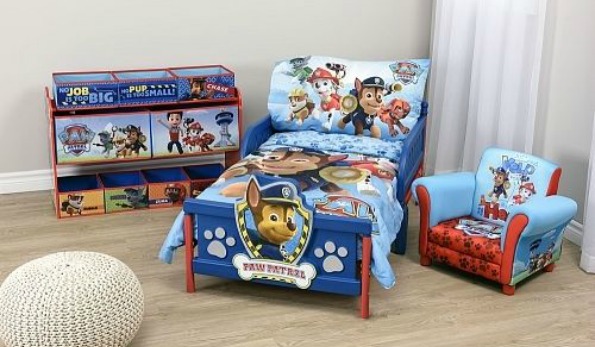 Paw Patrol is so popular right now and I often hear my youngest singing the theme song. I'm considering giving my kids a no-toy Christmas as they have so much and one of my ideas in doing that but still giving them something fun, is new bedding. My youngest would absolutely love a Paw Patrol toddler bedding set and eBay has one on sale right now, regularly $69.99, on sale for $55.97 and it includes free shipping.
I was curious about this bedding set, as it sells in eBay's official Toys R Us store, but they don't sell it at Toys R Us. What I found out is that this set is completely new and hasn't even been released yet, which is why you won't find it anywhere else.
It includes a reversible comforter, one fitted sheet and one pillowcase. Kids don't need a flat sheet I believe, because they just get tangled in it and it gets kicked off the bed.
One side of the comforter has the Paw Patrol gang and the other side is paw prints. I think both sides are super cute.
Looking around to find comparable pricing, I first checked Amazon, where you will only get a Paw Patrol sheet set, with no comforter for the same price. A set with comforter will cost you over $100.
eBay also has another Paw Patrol set that you might like, but it is just the bed sheet and pillowcase (so no comforter). It is regularly $21.99, on sale for $17.57 and will have free shipping as well.
When I showed my youngest these bedding sets this morning he said "that's awesome!" and says he wants Paw Patrol "everything" in his room. Then he started singing the theme song. I guess he likes it and why not? It is so cute! He came back after and said let's get some Minions stuff too. Kids know what they like.
It looks like these items are on sale for a limited time, so it isn't something you want to wait until next week to buy.
(Expiry: Unknown)